Hardscape Services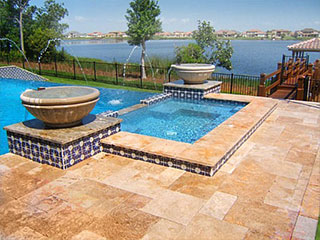 Gulfstream Hardscape has been at the fore of the hardscaping industry in Florida for almost 20 years. Creating stunning hardscapes of different types is something we do with great pride. Whether you want to add to the serenity of your landscape with a natural stone waterfall or want to install a permeable paver driveway, we are the company to call.

Our expertise covers every aspect of this project, including the design, planning, and installation of these features. If you want a superbly installed paved outdoor kitchen, you are in the right place.


Outdoor Kitchens
We provide high-quality outdoor kitchen design and installation solutions. Our team of hardscape designers is here to help you with every aspect of your patio kitchen planning. They will make sure that every single feature is planned purposefully and installed expertly. We know from experience that outdoor kitchens need to be highly functional and practical. It is why we focus on aspects such as movement flow, plenty of storage space, seating areas as well as food prep and countertop spaces. We make use of the best materials in our work so that you have hardy and long-lasting outdoor kitchen spaces that are the perfect addition to your yard. Read More About Outdoor Kitchens »


Stonescapes & Travertine
In addition to functionality practicality and durability, homeowners also want their landscapes to be attractive. Many different materials and products can be used in landscape installations to add to their beauty and attractiveness. Our team of hardscape designers provides high-quality stonescape designs and ideas. Various features can be built using a variety of natural stone materials. Travertine is a trendy natural stone that is versatile and perfect for features such as paving, walls, steps, columns, and more. We make sure that every stonescape that we design is installed to industry standards so that you have resilient and easy to maintain outdoor features. Read More About Stonescapes & Travertine »


Pavers
When it comes to surfacing outdoor areas in a landscape, you need to make sure that the materials you opt for would be able to endure exposure to the elements. We recommend the use of interlocking pavers for driveways, walkways, pathways as well as poolscapes, decks and patios, etc. We always use the highest grade materials in our work and recommend Belgard brand pavers for various outdoor spaces. We are Belgard-certified master craftsmen, which means you can be sure that the paver installation will be completed as per the company's requirements. Depending on the feature, you can choose pavers of different colors, shapes, sizes, and styling. Read More About Pavers »


Water Permeable Pavers
When you hire us for paver installation, we make it a point to provide you detailed information about the different types of products available on the market. Many property owners are focused on using eco-friendly materials. Fortunately, there are many products on the market, like water-permeable pavers that can be used in various features such as driveways, walkways, as well as pool decks, etc. These pavers are made of materials that lend porosity to the units. They allow the water to flow into the ground below, and it helps to replenish the water table. Since the water runoff from various hardscape areas in your landscape does not get directed towards the drains, permeable pavers become an eco-friendly landscaping material. Read More About Water Permeable Pavers »


Retaining Walls
If you have soil erosion problems on your property or have excavated certain areas to create space for outdoor features, you may need retaining wall construction. We are the experts that can handle all types of retaining wall design and build projects. We use the best quality materials like the ones manufactured by Belgard in our work. Their retaining wall systems are highly resilient and proven products that can last for decades when maintained with regularity. The products are available in a variety of styles, textures, and colors, etc. You are sure to find retaining wall products that would suit the aesthetics of your landscape. Read More About Retaining Walls »


Outdoor Fireplaces
Creating comfortable and welcoming zones in the outdoor areas of your property is made easy when you opt for an outdoor fireplace. We are the hardscaping specialists that can design and install yard fireplaces of any size and shape. Whether you want an elaborate fireplace or a more compact and simplistic one, we are here to help. We use custom designs to make sure that you get the kind of unique fireplace features that you want on your property. Belgard also manufactures fireplace systems that can be installed very quickly. If you are looking for something more competitively priced, we recommend that you get a concrete fireplace built with stone veneer on it. Read More About Outdoor Fireplaces »


Exterior Fire Pits
If you feel that you want a more compact fire feature, an exterior fire pit is a good option. These structures could be made of brick, natural stone, or concrete. Depending on your specific requirements, we provide customized designs and make sure that the installation is completed to industry standards. If you want an exterior fire pit that is proportionate, stylistic, as well as durable and practical, we are here to help. Our hardscape designers have years of experience in the industry and make sure that any feature that they design meets client requirements. While we are doing all of this, we also keep the landscape designs and features in view so that you have a fire feature that blends in perfectly with the rest of your outdoor spaces. Read More About Exterior Fire Pits »


Stone Veneers
Sometimes, property owners feel that they want the beauty of natural stone in their landscape without spending large amounts of money on the feature. In some cases, the site may not be able to support the weight of natural stone blocks. In these situations, it is possible to construct walls, seating benches, etc. made of concrete. However, concrete does not have the appeal of natural stone, which is why we recommend that you get stone veneers installed on the surfaces. These are thin natural stone or cultured stone tiles that can be fixed very easily on horizontal or vertical concrete surfaces. Read More About Stone Veneers »


Landscape Lighting
Regardless of how well planned and designed your landscape is, without the right kind of lighting, you would not be able to use the areas optimally. We offer customized landscape lighting solutions and make sure that the fixtures and fittings are energy-efficient. Our team is highly skilled and creative in their approach. They make sure that the landscape lights installed on your property, add to the beauty of the space, and create the kind of effect you want in the outdoor areas of your home. We plan the placement of lights and also provide you detailed information about the types of lights that you can opt for. Read More About Landscape Lighting »


Water Features
One of the best ways to add beauty and serenity to your landscaped areas is to install water features in them. We can provide the best designs and plans for different types of water features, including natural stone fountains, waterfalls, ponds as well as streams. Whether you want a formal-styled fountain or a natural meandering stream, we are here to help. We use the best grade materials in our work, and the water features are long-lasting and that they look great for several years. Skilled and experienced installers will handle the job so that your water features are stable and appealing. Read More About Water Features »

For any more information about our excellent paving and other hardscaping services, feel free to contact Gulfstream Hardscape at this number- 772-559-9690. Our ICPI-certified installers can handle projects of any shape and size. The use of high-grade hardscaping products ensures you get superb and durable masonry features in your landscaping.

We look forward to working on your next project. You can also send us your project details and queries about residential hardscaping etc. through this Online Form, and we will respond as soon as possible. You can also request a Free Estimate via this form.